THE IMPORTANCE OF HAVING A STRONG IMMUNE SYSTEM
A strong immune system requires balance and harmony in the body to work together to fight off harmful infections and illnesses.
Having a strong immune system is one of the biggest advantages for humans and there are many steps individuals can take to help strengthen their immune systems to help fight infections and reduce the risk of contracting highly contagious diseases.


Did you know that 70% of the immune system is located in the gut?
You likely know that what you eat can affect your weight and energy level throughout the day. But you might not realize the extent to which diet affects the immune system.

Humans have more bacterial cells—a lot more—than human cells. Bacteria live on the skin, in the nose and ears, and, most of all, in the gut.

If you want to boost immunity, look to the gut.

PXII (2-IN-1 PREBIOTICS + PROBIOTICS)
Probiotics are, no doubt, one of the most widely consumed supplements around and there's a good reason for it.
The increasing use of antibiotics, immunosuppressive therapy, irradiation, and other forms of treatment, along with poor diet and lifestyle factors are a huge reason why a big portion of our population has bad gut health and a host of health problems to go along with it.
Both prebiotics and probiotics are important for human health. However, they have different roles:
Prebiotics
These substances come from types of carbs (mostly fiber) that humans can't digest. The beneficial bacteria in your gut eat this fiber.
Probiotics
These are live bacteria found in certain foods or supplements. They can provide numerous health benefits.
By taking pre and probiotic supplements like Alazne PXII, one can enjoy the benefits such as:
Replenish good intestinal bacteria
Replenish good bacteria that may be depleted as a result of imbalanced diet, antibiotic use, food poisoning, diarrhea, poor overall digestive health and/ or chronic stress
Promote healthy digestion
Reduce stomach bloating and discomfort after meals
Strengthen immune health
Less prone to sickness
To find out more about the PXII strains: click here
GLUTA C (GLUTATHIONE + LIPOSOMAL VITAMIN C)
THE MOTHER OF ALL ANTIOXIDANT
Glutathione is a natural and indispensable molecule found in every cell in the body. There is virtually no organism on Earth that doesn't have some glutathione in its cells.

This powerful antioxidant is one of the most protective molecules in the human body. Without adequate glutathione levels, we are at risk of some of the most feared health conditions.

As we get older and more exposed to toxins, drugs and environmental pollution, our supply of glutathione tends to decrease as well. And lower glutathione levels appear to go hand-in-hand with poorer health.

But when our Glutathione levels are adequate or high, that's when the magic happens!

Gluta-C has been specially formulated to increase our Glutathione levels and protect us from fearsome health conditions. Giving us incredible energy, glowing skin, healthy detoxification, strong heart and brain function, and possibly even a longer life.

BENEFITS OF GLUTATHIONE
- It is the mother of all antioxidant
- Improve immune system
- It has mitochondrial effects
- It is critical to cellular function
- It is a detoxifying compound
- Natural skin paler (fairer and healthier skin)
LIPOSOMAL VITAMIN C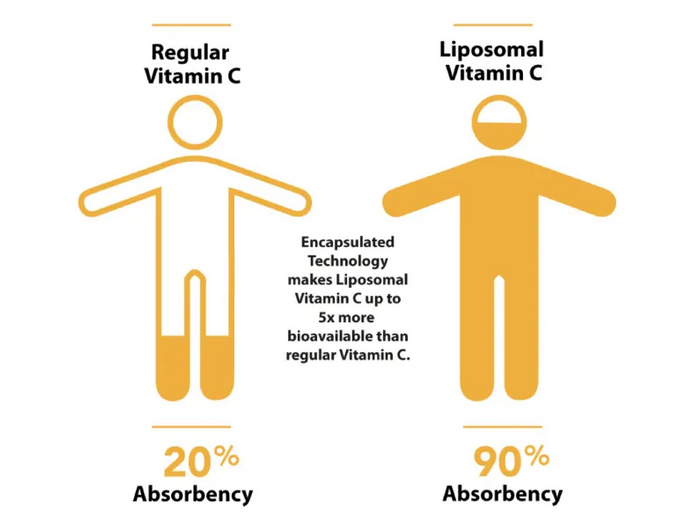 BENEFITS OF LIPOSOMAL VITAMIN C
- Cure for the common cold
- Protection against immune system deficiencies
- Prevents cardiovascular disease
- Maintains healthy skin & wrinkling
- Important for eye health
- Prevents cancer and stroke
- Essential for the body to make collagen
GLUTA C could quite possibly be the secret to lasting health and longevity. Take care to maintain and boost your levels every day.
INGREDIENTS
PXII
Lactobacillus Lactis, Lactobacillus Acidophilus, Lactobacillus Casei, Bifidobacterium Longum, Lactobacillus Plantarum, Lactobacillus Rhamnosus, Lactobacillus Salivarius, Yogurt, Inulin (11.3g/100g), Whey, Magnesium, Calcium, Sugarcane, Thickener (Modified Starch, Cellulose).
GLUTA C (Pineapple / Mixed Berries / Lemon & Lime Extract)
Vitamin C, Pineapple Extract / Mixed Berries Extract (Strawberry, Blackberry, Cranberry, Redcurrant, Blackcurrant, Raspberry, Blueberry) / Lemon & Lime Extract, Yeast Extract, Cane Sugar, Dextrin, Calcium, Magnesium, Starch, Cellulose, Sucralose. Contains thickener as permitted food conditioner.

SERVING SIZE
Serving Size: 740mg (PXII), 850mg (Gluta C)
Serving per Package: 60


DIRECTION OF USE
Chew well before swallowing. Can be taken before or after meal.
1-2 tablets daily for children 4 -15 years old.
2 tablets daily for teens above 16 years old and adults.
For pregnant women or nursing mothers, please consult your physician before taking this or any other products.

PRODUCT SAFETY
Registration number:
PXII: 600-7/2/1 Jld
Gluta C: 191121/11/110, 191121/11/113, 191121/11/114
Approved by Ministry of Health (Malaysia)
Manufactured in a GMP-Certified Facility
All key ingredients are derived from plants
Clinically Proven Ingredients